iDateMedia is pleased to announce a new partnership with Trustalyze. Trustalyze is a different online review company. They take verified customer reviews and post them to their blockchain via a solution called the Trustalyze Confidence System creating better reputation, better trust and more revenue for your dating site and now all iDateMedia customers receive a free unlimited membership.
Trustalyze Confidence System Features Include:
SEO Optimized Company Profile Page
Text Reviews
Video Reviews
Review Invitations
Scammer Protection
Blockchain Verification
Review Search App Listing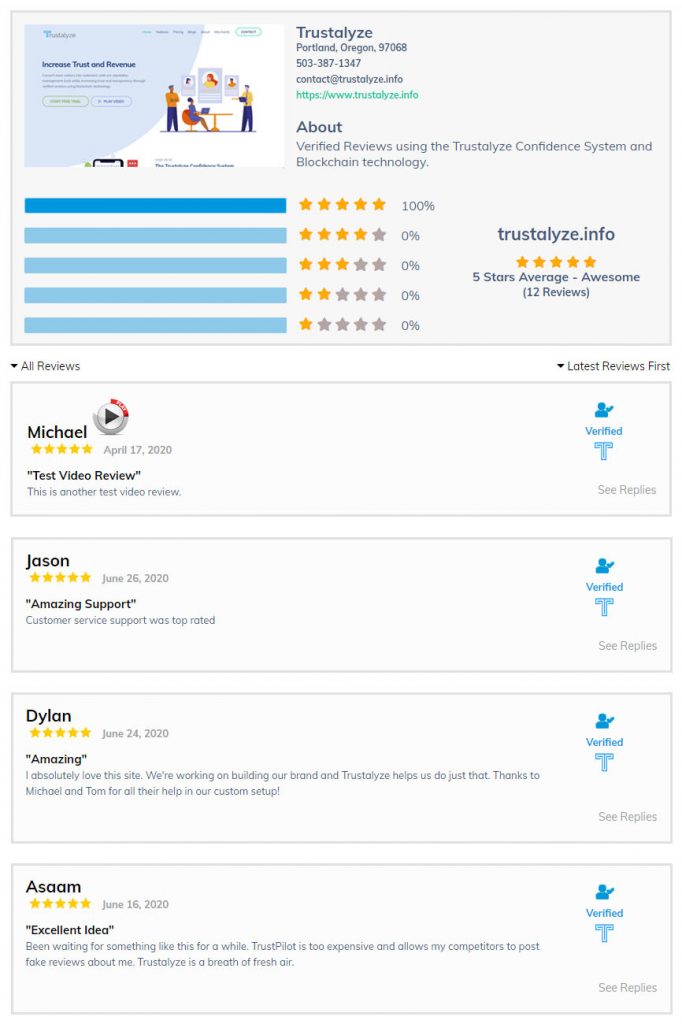 We have integrated the Trustalyze Confidence System into our dating software version 9.7. This will allow dating site owners the ability to get reviews from their members. Those reviews will then be posted to Trustalyze.com on their company profile page. Here's an example.
If dating site xyz.com activates the Trustalyze Confidence System in the dating software admin area then it will create a company profile page at trustalyze.com/xyz.com where all the dating site members reviews will show up. This will help build up trust, transparency and reputation for your new dating site and in a world of many online dating sites yours needs to stand out.
I've broken down some of the Trustalyze features below.
SEO Optimized Company Profile Page – When you join the Trustalyze Confidence System your company profile page will be created. This is where all reviews will be sent to. This page is SEO optimized for Google and includes their Schema Markup Rich Snippets which shows all the stars and average reviews right in the Google results. This increases exposure to your company profile page and brand.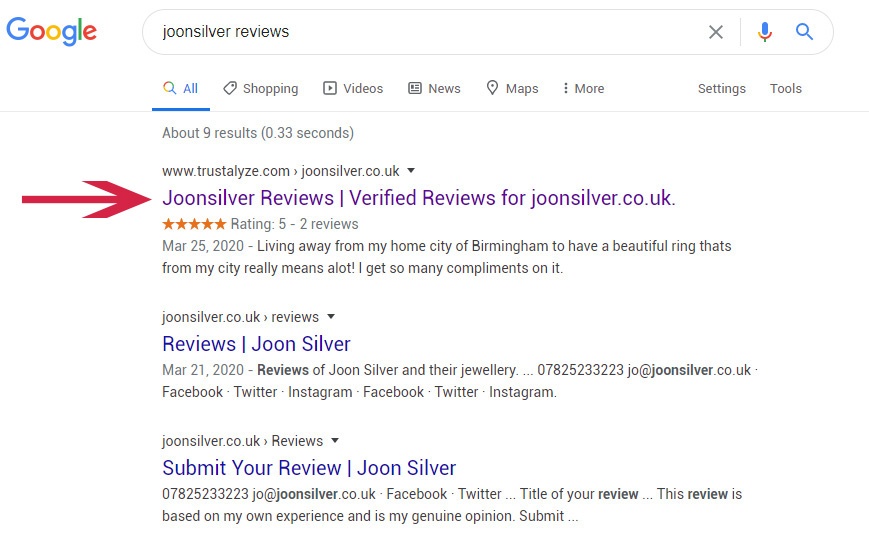 Text Reviews – Members can leave text reviews and those reviews get posted to your company profile page.
Video Reviews – Along with text reviews, your members can leave video reviews along with their text review. They simply fill out the review form and click the Record Video button and send a short video along with their text review. That video along with the text review gets posted to your company profile page then on to their blockchain for added transparency.
Review Invitations – When members join your site or purchase a subscription they will show up in your Invitations area of the Trustalyze Confidence System. There you will be able to send email reminders asking them to leave a review. Once they leave the review it will show up on your company profile page at trustalyze.com. You can send unlimited review invitations.
Scamalyze – This is a function that Trustalyze offers all dating site owners. It will scan all of your users after they register and if they're detected as a known scammer then they will be blocked at the IP level and not allowed to access your site. The Scamalyze functions works by scanning the IP address, username, email and photos to ensure they are not known scammers. If detected they are blocked. In the event of a false positive you can unblock the member.
Blockchain Verification – By posting reviews to their blockchain those reviews are not deleted or edited. This helps dating site brands increase their trust and transparency by letting their members know that they don't delete or edit reviews. Showcasing this increases your online reputation.
Review Search App – This is Trustalyze's Review Search App (For Android/Beta). When your site is activated and your company profile page is created then your reviews will show up in the app. Consumers are using the app to search for reviews. Your reviews will show up in the app and each of your reviews clicks to your company profile page.
The version 9.7 update is currently available for download for all of our dating software customers. Should you wish to upgrade to version 9.7 please download the latest version from the My Account area here at iDateMedia.
To use Trustalyze, simply visit the new admin area of your dating site and scroll down the the Trustalyze section. There you will be able to set it up.
Should you have any questions about the new Trustalyze function or anything else about the latest version of the dating software, please feel free to contact us.