These are just some of our customer reviews for the iDateMedia dating software.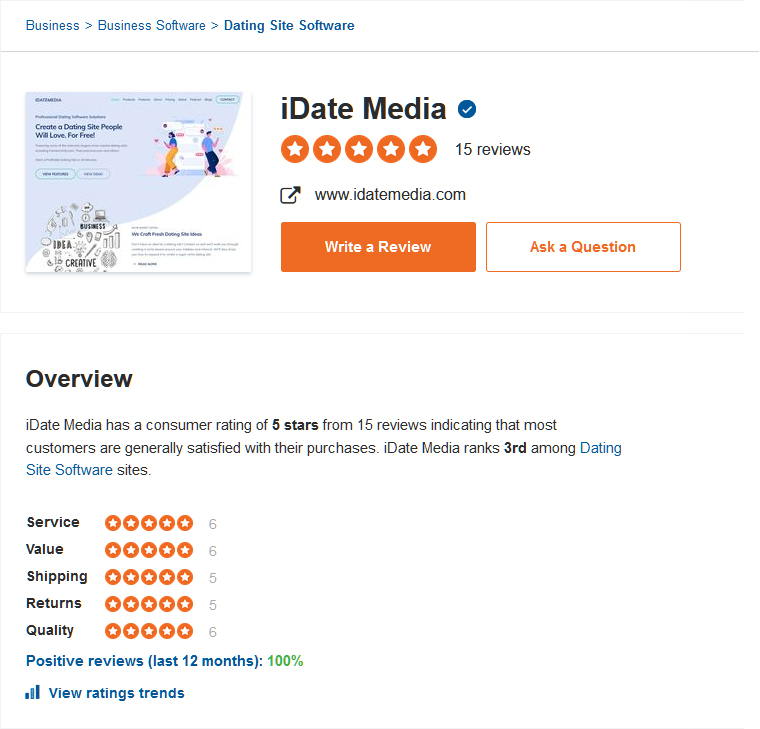 More Dating Software Review FAQ's
Where do iDateMedia's reviews get posted?
To ensure proper trust and transparency, all of our reviews are posted at SiteJabber.com.
Can anyone review the dating software?
No, only actual customers can review our dating software. If you're a customer you can review your transaction up to 30 days after purchase.
How often are your reviews updated?
Each time a customer leaves a review our company profile page at SiteJabber.com is updated. Our reviews are then posted to their blockchain to make them immutable.
Thank you
Thanks for getting me all set up. I thought it would take days to get this thing going and it took less than one day. Thank you. Now for the real work… 🙂
Very Helpful
They developed our dating app and they were very helpful and kept sending updates almost every day with an updated apk file to show the progress. Got changes in without any issues.
Love My New Site
I just love my new site. We're doing a take on Conservatives and the whole idatemedia team has been with us the whole way. Can't promote these guys enough. Call, you'll be happy you did.
Mobile App
While I like the mobile dating app, I would prefer if you had 100% of the dating software features in it. I get that you have the Tinder style features but would love to see all features in the app.
Easy Peasy
Michael and the team got my site set up in no time at all. Things have gone very smoothly and I highly recommend idatemedia.