These are just some of our customer reviews for the iDateMedia dating software.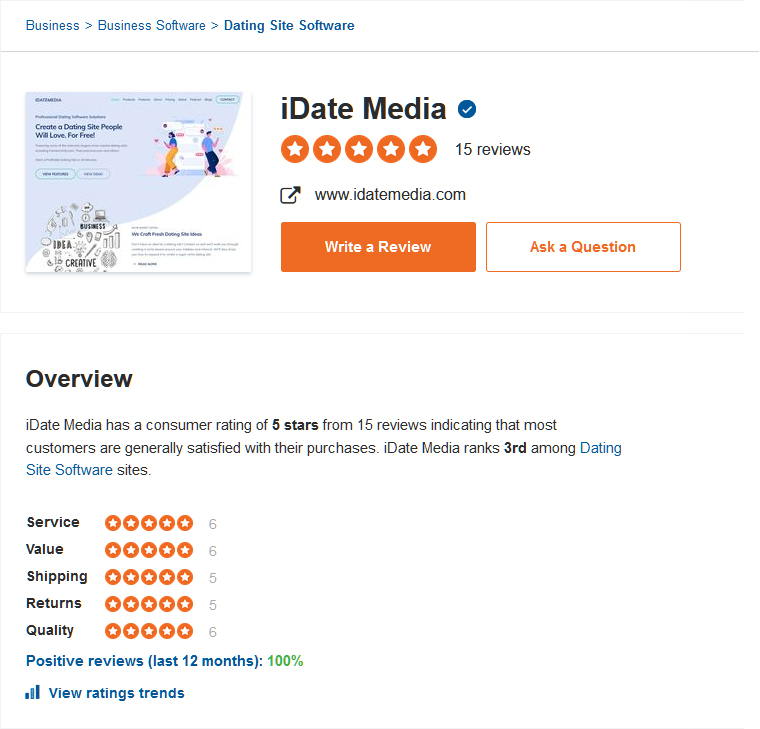 More Dating Software Review FAQ's
Where do iDateMedia's reviews get posted?
To ensure proper trust and transparency, all of our reviews are posted at SiteJabber.com.
Can anyone review the dating software?
No, only actual customers can review our dating software. If you're a customer you can review your transaction up to 30 days after purchase.
How often are your reviews updated?
Each time a customer leaves a review our company profile page at SiteJabber.com is updated. Our reviews are then posted to their blockchain to make them immutable.
Mobile App
While I like the mobile dating app, I would prefer if you had 100% of the dating software features in it. I get that you have the Tinder style features but would love to see all features in the app.
Easy Peasy
Michael and the team got my site set up in no time at all. Things have gone very smoothly and I highly recommend idatemedia.
Great Support
Been using these guys for 2 years now. The podcasts that Michael released really helped us with using Twitter to help build our profile base. Very thankful.
Best Christmas Present Ever
Bought the day before Christmas and they set it up on Christmas day. Who does that? Best present eva!
Best Choice
We had bought a previous software from a Russian provider that turned out to disappear once we got the site going. We contacted idatemedia.com and they helped us get going with the software and have been there after the sale which means the world to us.