These are just some of our customer reviews for the iDateMedia dating software.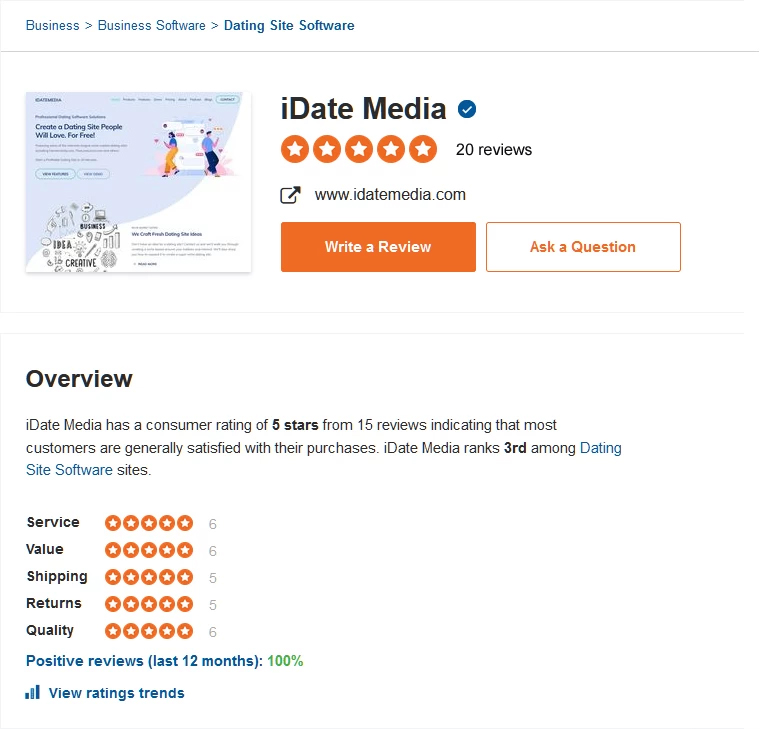 More Dating Software Review FAQ's
Where do iDateMedia's reviews get posted?
To ensure proper trust and transparency, all of our reviews are posted at SiteJabber.com.
Can anyone review the dating software?
No, only actual customers can review our dating software. If you're a customer you can review your transaction up to 30 days after purchase.
How often are your reviews updated?
Each time a customer leaves a review our company profile page at SiteJabber.com is updated. Our reviews are then posted to their blockchain to make them immutable.
Extensive Software
While the dating software is really good and the support is really good, my own critique would be about the mobile dating app. It doesn't contain all of the desktop features. It's more like a Tinder or Bumble style app. I would add more of the desktop features into the app but otherwise, the software is awesome.
Does what it says.
We're very happy with the purchase we made. The team has been there the whole way. The software says what it will do and for that we're grateful.
Works Great!
Their dating software works quite well and when you have a problem the support gives you quick and easy answers and fixes. I do recommend it 🙂
Happy with the purchase
Getting the software was the easy part. The hard part now is to get to getting profiles on the site. Thanks to your whole team for getting us all set up.
Thank you
Ordered the software yesterday and by today it was all ready to go. I previously had another vendor that had issues. The previous software vendor took forever to get back to me but idatemedia has always been present. Thanks again.