These are just some of our customer reviews for the iDateMedia dating software.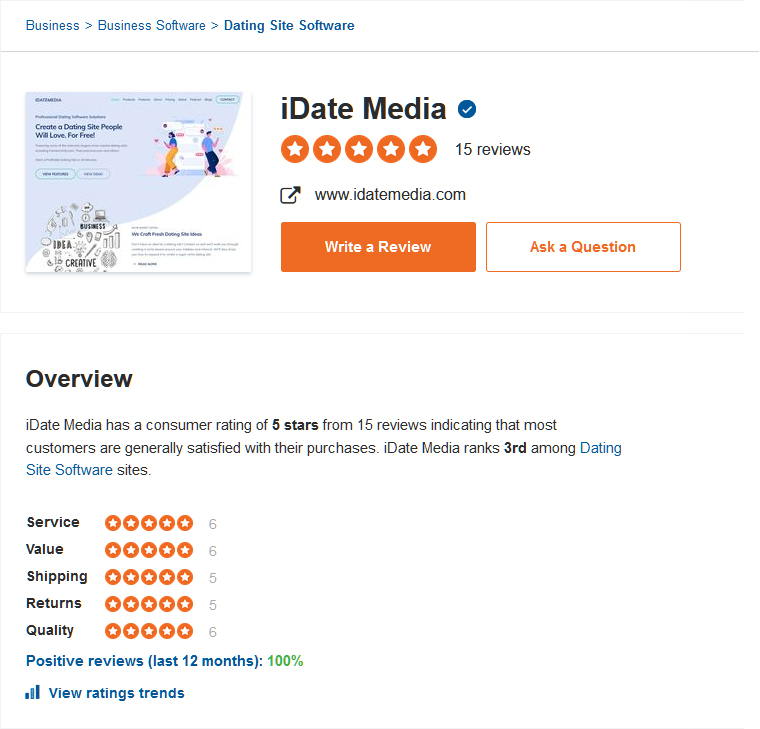 More Dating Software Review FAQ's
Where do iDateMedia's reviews get posted?
To ensure proper trust and transparency, all of our reviews are posted at SiteJabber.com.
Can anyone review the dating software?
No, only actual customers can review our dating software. If you're a customer you can review your transaction up to 30 days after purchase.
How often are your reviews updated?
Each time a customer leaves a review our company profile page at SiteJabber.com is updated. Our reviews are then posted to their blockchain to make them immutable.
Love the software
We looked around for a while and finally settled on these guys because the software is solid and seems to be widely used by other popular sites. Was a good find. Kudos to Michael and his team. Thank you so much.
Works great
Amazing. Love all the changes we have. Software works great as expect. Thank you for all the help provided.
They were awesome!
Didn't even expect an answer on the phone much less getting this done in less than one day. This was awesome. Thank you for helping us!
Thanks for all the help
Got exactly what I was wanting. Thank you guys.
The staff has been awesome
We have been going back and forth with the team and they have answered all questions. I recommend idatemedia.com.