These are just some of our customer reviews for the iDateMedia dating software.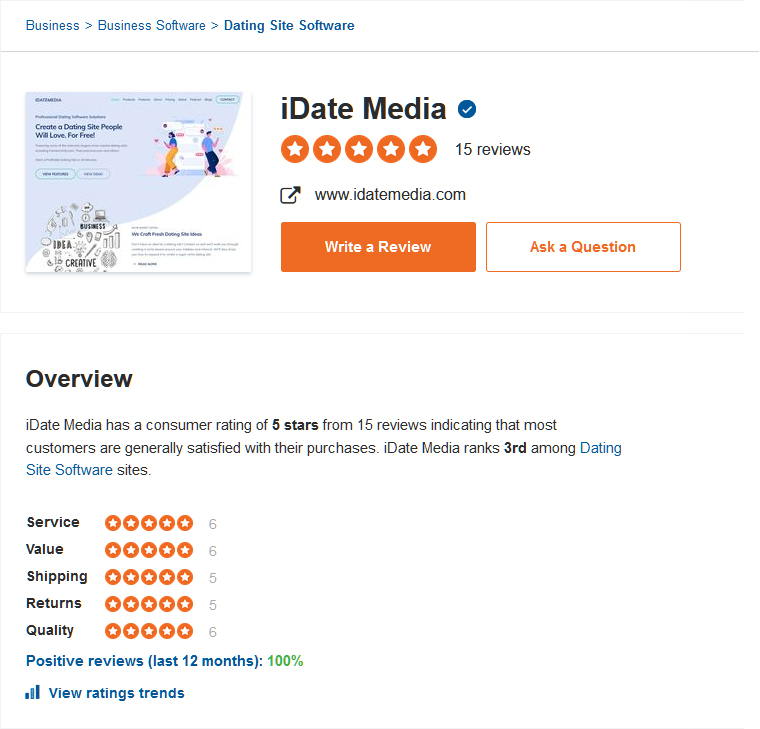 More Dating Software Review FAQ's
Where do iDateMedia's reviews get posted?
To ensure proper trust and transparency, all of our reviews are posted at SiteJabber.com.
Can anyone review the dating software?
No, only actual customers can review our dating software. If you're a customer you can review your transaction up to 30 days after purchase.
How often are your reviews updated?
Each time a customer leaves a review our company profile page at SiteJabber.com is updated. Our reviews are then posted to their blockchain to make them immutable.
Asking a lot of questions
I asked tons of questions and got my answers back quick. Great product and Michael is always helpful.
Love It!
I really love my new site. I recommend it if you're looking. Great team.
Great Customer service...very responsive
Unlike most companies these days, iDateMedia is very responsive to emails and changes that I keep requesting for my website.
Great job
Idatemedia really came through! When other dating companies failed me, Idatemedia succeeded!! Great service and platform!
Great Job Guys
Recently got set up and the whole team helped us do it all. Bought and within an hour the whole site was set up and ready. Great job guys!