For the last month we have been working on version 11.2. Below is a sneak peek at some of the new templates that will be included in version 11.2 of the dating software along with some enhancements along with a new customized mobile dating app that works directly with your niche market dating site.
With version 11.2 of the iDateMedia dating software, we have included 4 new template designs. These templates are fully responsive and will work on any device including desktops, laptops, tablets or mobile phones. Here's a few screenshots of the new dating software template designs.
What's in Dating Software 11.2?
Along with the above four new template designs, we have redesigned the onboarding (Registration) process to include a brand new dynamic registration that is based on the custom profile questions that you create. Users can also login via their Google or Facebook accounts.
We have also updated our mobile dating app. You can check out all the mobile dating app screenshots by going to the Mobile Dating App page. This updated mobile dating app will allow you to connect directly to your dating website and all of your features/functions will be inside the dating app including all of your custom profile questions.
We have also redesigned the headers and footers of the guest/members areas to reflect the new design. We have also redesigned the search page, profile view page along with the users dashboard. These new function designs make it easier to load as well as making the pages load faster.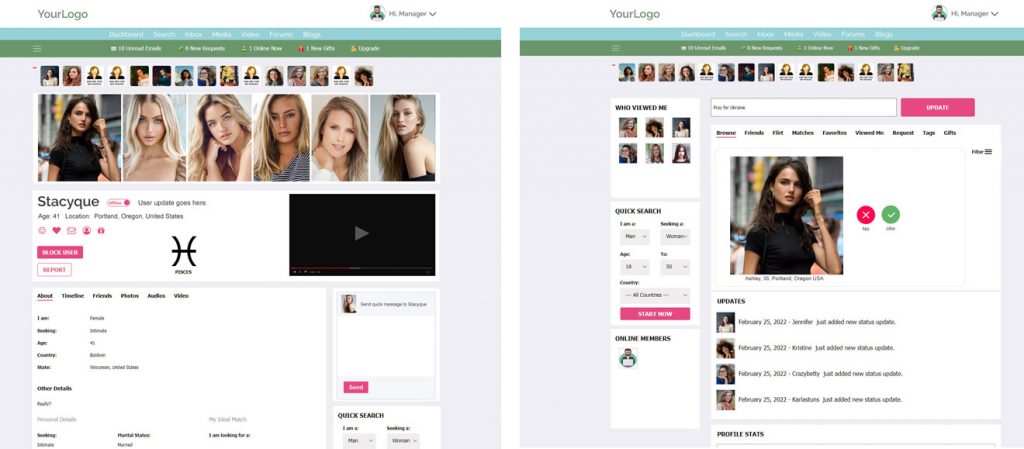 A new video profile section now appears on the profile view page. When a user uploads a MP4 file, that video, after approved, will appear on the users profile and can be streamed via FFMPEG.
Other Dating Software 11.2 Enhancements
Along with the new dating templates and new design we have made enhancements to the following dating site features:
Updated Live Video Chat
Modified Members Admin
Enhanced Registration/Onboarding
Mobile Dating App Connectivity
Existing Templates Modified for Responsiveness
This is just a sneak peek of the dating software version 11.2.