We have compiled the top 6 must have dating software features you must have in a dating site. These top 6 features will ensure that your members stick around.
Live Video Chat
Get Verified
Compatibility Quiz
Matched Profiles
Custom Profile Questions
Block/Report Feature
Live Video Chat
This has been the number one sought out feature since the pandemic started. Days of meeting up in person seem to have be sidelined due to the pandemic and brought to the forefront the need for Live Video Chat. A dating software must have feature. Not only will your members love it but they will pay a subscription to use it.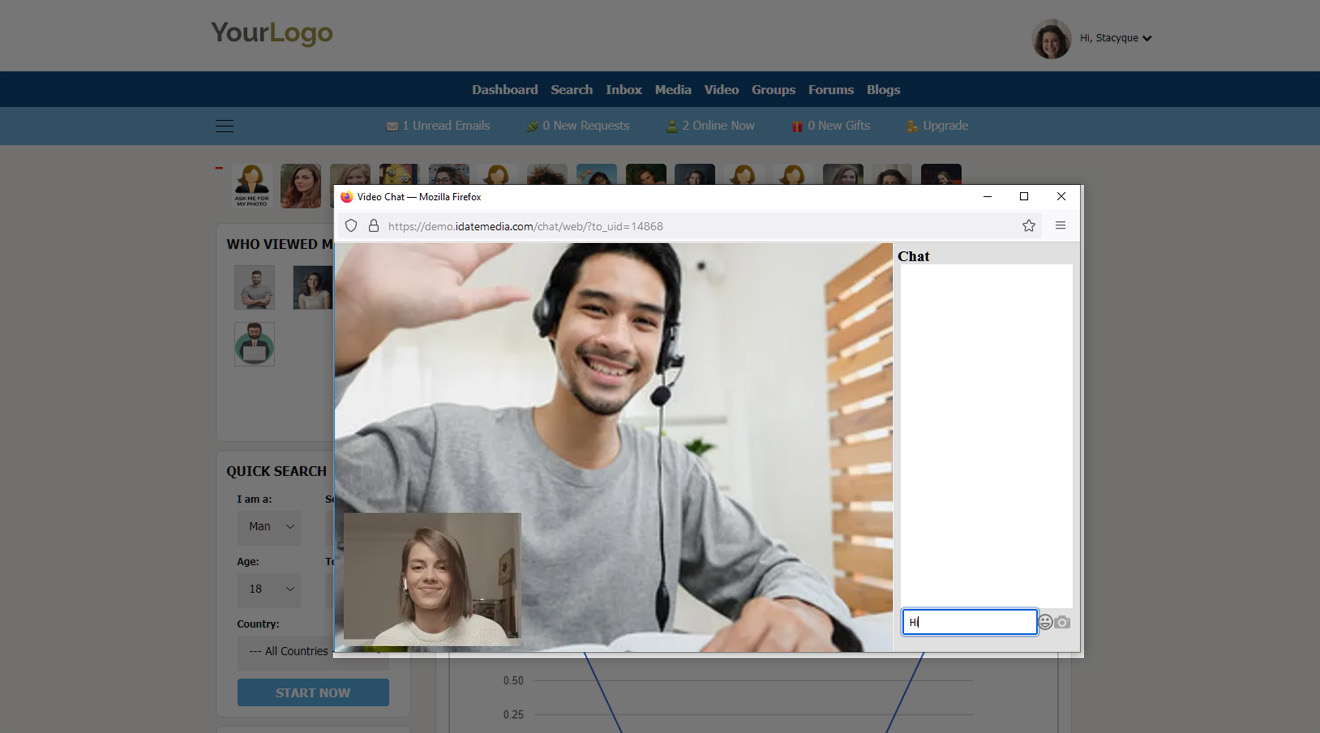 The Live Video Chat is built into the iDateMedia dating software and works by allowing two people to go into a one on one live video chat session where they can see and talk live as well as send text messages back in forth all within the same screen.
When a user is online they will have a flashing chat icon on their profile. When you click that icon the user receives an onscreen notification to Accept or Reject the request. Once they Accept the request then the chat will ask for permission to access the webcam and microphone. Once activated, the users go into a one on one live video chat.
Get Verified
Get Verified is a new feature addon that we integrated into the dating software version 12.2. This is a must have feature for 2023 simply due to all the fraud that is within the dating industry. Since there are some people that want to hide who they are in an attempt to scam other members, we decided that a Get Verified feature was required.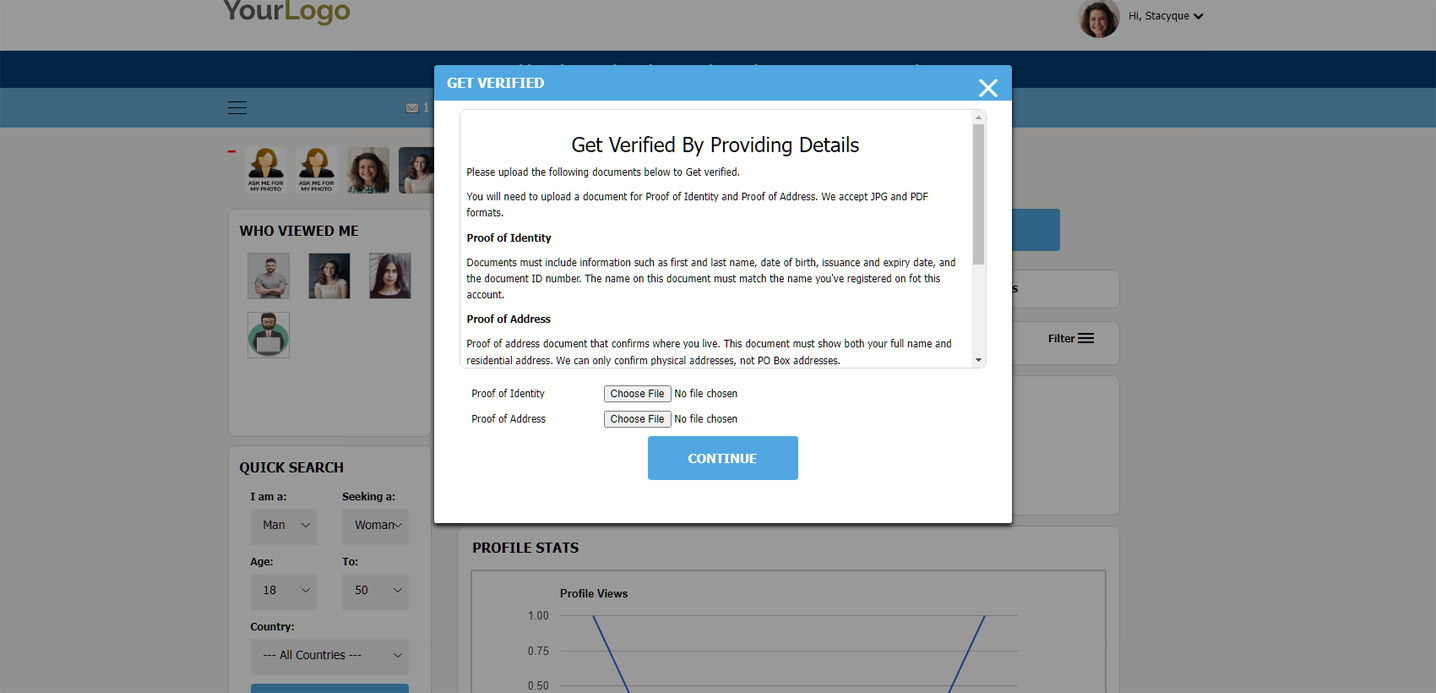 It works by allowing members to upload proof of identity and proof of residence to the admin of the site. The admin will then verify that the verification details match the profile details. Once the admin verifies this data the user receives a blue verified badge on their profile view. This will let people know that the user has been verified as authentic.
Compatibility Quiz
This is a must have dating software feature for 2023. You have to have the ability for users to answer custom compatibility quizzes. Once answered members can view other members answers to see if they matched the same answers. It's not just about having a pretty face, it's about matching people based on custom questions.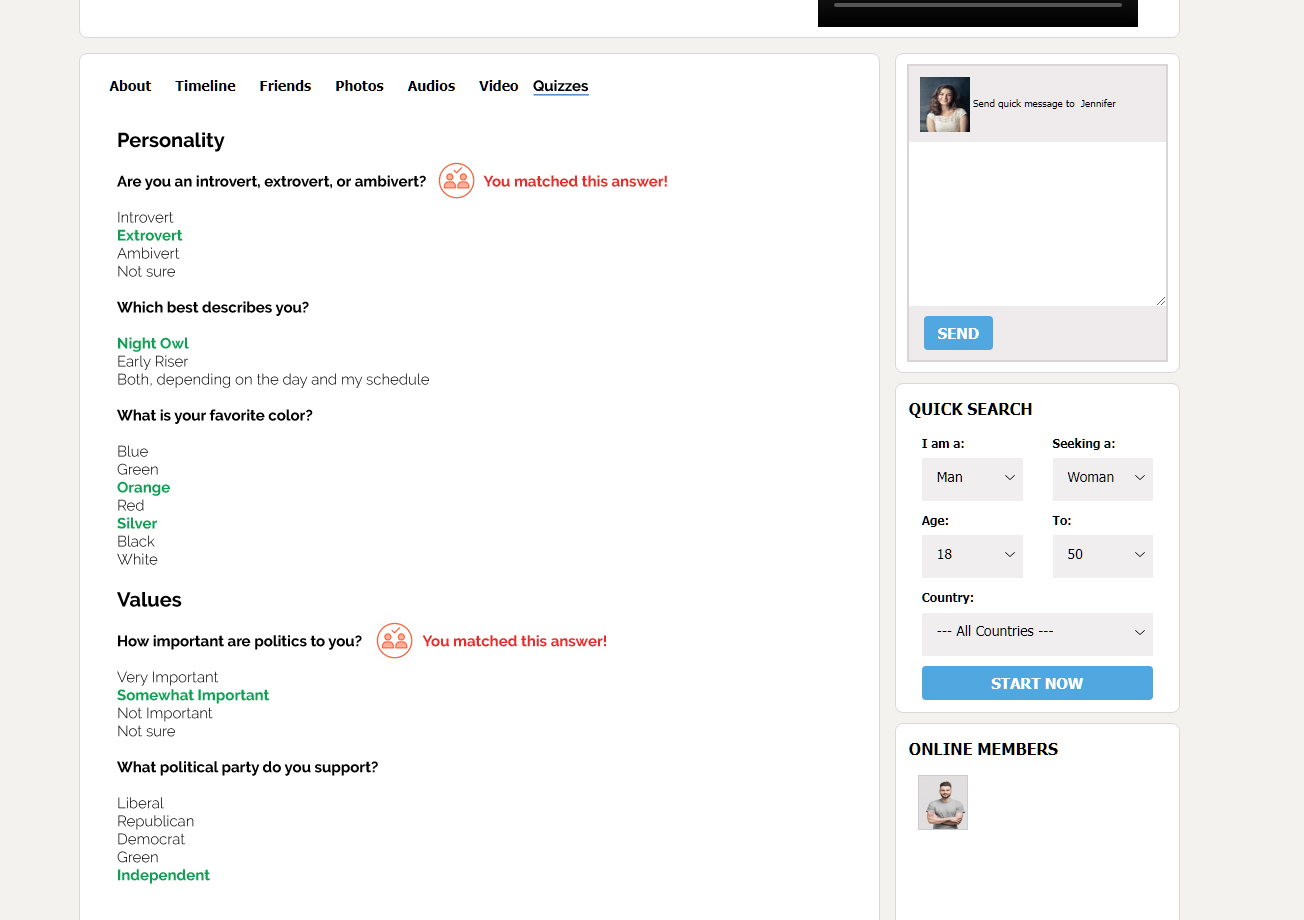 The Compatibility Quiz is now part of the iDateMedia dating software version 12.3 as an optional addon to the dating software.
The Compatibility Quiz will use drop down and multiple choice questions and when shown on a profile view, the answers will be shown in green and a notification will show if there's a match to the question that was asked.
Matched Profiles
When users sign up and create their profile, they need to be automatically matched. This is a feature within the iDateMedia dating software platform and works by using an algorithm to look at other users profiles to determine if they are a match or not.
Custom Profile Questions
Custom Profile Questions are a must have feature for 2023. You must be able to customize your dating site to fit the niche that you're looking to enter. The iDateMedia dating software includes a core admin tool for creating drop down, multiple choice, text box and text field questions.
Block/Report Feature
Your members need the ability to block other users from contacting them. Not everything is going to be roses on your dating site. You might find a few people being a bit difficult with your members so a block feature and report feature is mandatory.
When activated, this block/report feature gives your users the ability to block other members from contacting them. At the same time the profile URL of the offender is sent to you the admin for viewing. You have the ability to suspend them or keep them active. That's the choice that you can make.
In Closing
These are the top 6 must have dating software features that your dating site should have in 2023.
If you have any questions about these features or the dating software in general, please don't hesitate to Contact Us.