Let's dive into what exactly dating scripts are then we'll discuss what you should be looking for in dating scripts for the year 2020.
What Is A Dating Script?
Dating scripts are dating applications that are written in scripting languages like PHP or ASP with PHP being what most the web is designed in and has been around for a very long time.
Dating scripts have been around since the early 2000's and while we were the first ones to introduce dating scripts to the market, there are others that have popped up over time. Most of them are located in Eastern European countries like Russia, Kazakhstan, Ukraine and Lithuania with iDateMedia located here in the United States.
How Did Dating Scripts Come About?
Back in the late 1990's I was working for Yahoo personals (Now defunct) as a contractor and at that same time we were thinking of starting our own dating site for the city I lived in. Fast forward a few years and early versions of PHP and we had our first dating script designed for our niche market dating site. What was surprising was we had people asking for a copy and this is what turned into the dating software market and fast forward almost 20 years and we're still here developing dating scripts for the masses.
While we were the first ones to launch dating scripts for sale, many have popped up since then. As we look back into those early days we can say the dating script really looked premature and not so good. In fact if we look at the web in the year 2000 and then look at the web now we will see a massive change for the better. From web 1.0 to web 2.0 to what we have today. I'm sure we'll end up moving into a type of web 3.0 and idatemedia will be leading the way when it comes to the evolution of our dating scripts.
Where is Online Dating Going in 2020?
The first part to understand is that there will always be a need for people to meet online and online dating will still be around for as long as the internet is around. What will change mostly is the markets in which the dating sites will be set up for. This means that broader niches will be in store.
More and more people are creating dating sites around the niches that they follow. Whether it's their hobbies or business dealings, the one thing that will be true is that there will always be a need to start a niche market dating site.
The Niche is the Dating Scripts Algorithm
When it comes to dating script features the features are pretty much the same. You can't really add much more in terms of matching other than algorithms that match people but when you build a niche market dating site the need for increased algorithms goes out the door just for the simple fact that the niche itself is the algorithm.
If your hobby is college football then starting a dating site for your favorite college alma mater would be a great idea. In fact iDateMedia is currently developing a dating site for single people that went to Penn State University.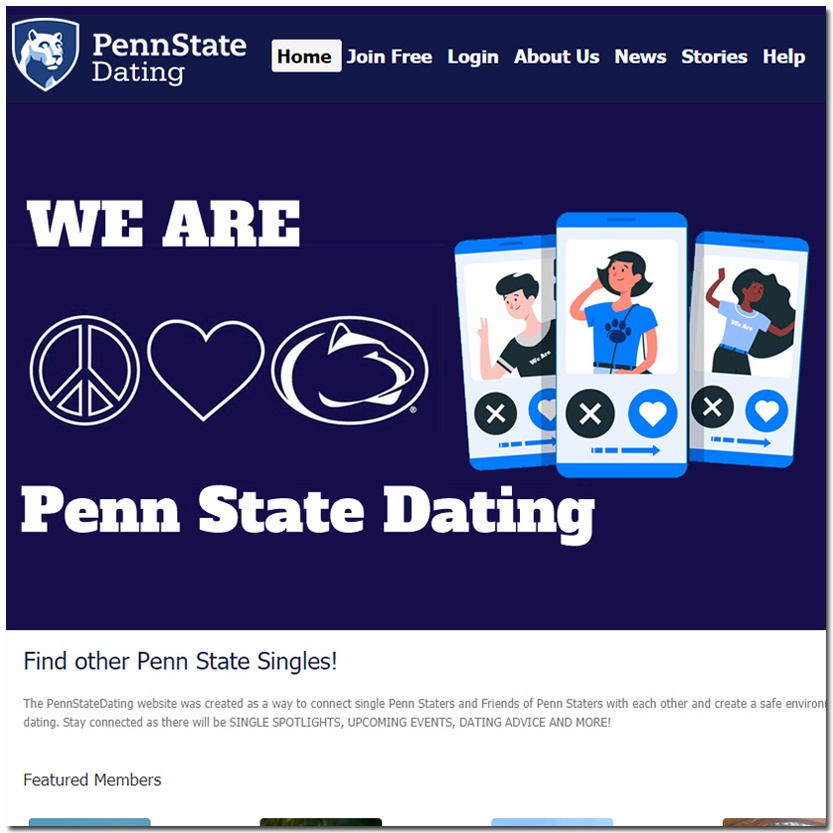 When Penn State alumni approached us they wanted a simple site that allowed people to match based on certain criteria but they realized that the site itself was the main criteria which was people who were single that went to Penn State. As for expanding on the algorithm there, there wasn't much left to be done.
What Features Do I Need?
When it comes to niche market dating sites you don't need much in terms of features other than what is noted above but if you're looking for a dating script then you need the basics that include internal email, free/paid mode, search, customizable profiles, payment gateways, reports, maintenance, moderation and a good responsive design. That's it, let the niche you enter dictate the algorithm.
You also need good traffic that is relevant. Not bought traffic so don't spend the money on buying traffic. It won't convert. The best way is to start a Facebook Group like our friends at PennStateDating. Start that group and invite all of your friends and family. Then promote it by adding content to it each day. Once you get a good base then start promoting your dating site in the group.
Setup other social media accounts like Twitter, Instagram and others. Start following people within your niche market. Post every day if you can or at the very least once a week but do keep it relevant and keep it current.
Now as for the dating script, we here at iDateMedia like to think we have the best dating script. It's not full of the fluff that you find in other dating software applications but it has what you need to be successful. Just look at some of our customers like ThaiLoveLinks or FarmersOnly. It speaks for itself.
Check out our dating scripts demo and our dating scripts features.