iDateMedia is pleased to announce the release of version 9.5 of the iDateMedia Dating Software. This new version includes new templates, faster loading times as well as a new mobile friendly responsive version.
It's Faster!
We have modified all of the files and optimized them to run on slower shared hosting sites. These will run amazingly fast on VPS servers as well as Dedicated servers.
Being faster means that you won't be sitting around waiting for the dating script to load. We went through each file and removed unwanted items including minimizing code labels as well as optimized all the code in all files.
New Responsive Version
This new 9.5 of the dating software includes a brand new responsive version. Not only is it fully responsive but we've made it faster too. It will load fast on any device and your users will appreciate that.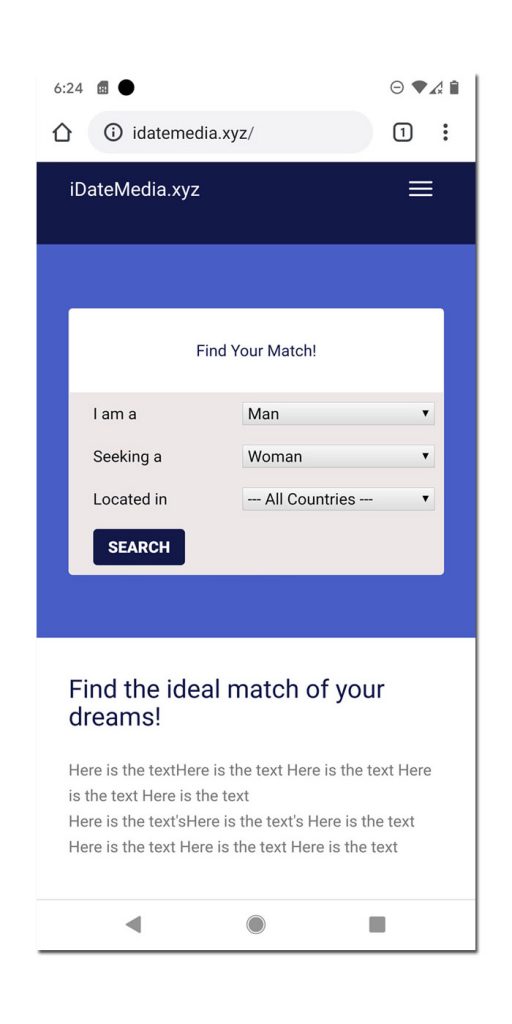 Along with this new responsive version we have added a unique color code to the responsive design. You can change the color that displays on the mobile devices. This is because there's not a lot of space for images on the top of the front page due to the quick search box taking up the space so on the responsive version we replaced the background image with a CSS color code that you can change. By replacing the image with a CSS color this improves the loading time on mobile devices.
New Templates Added
We have added two new templates. They are Seniorstyle and Harmony. These new dating site templates are fully responsive and optimized to run fast. Really fast!
As with all of our dating software templates, you can modify the color, text and images to make your own niche market dating site.


If you're going to replace the image then make sure it's below 200k in size.
These along with some other tweaks and fixes make up the new version 9.5.
Updating Your Site
If you're going to update your site to this latest version then follow these steps. If you're hosted with us then we can update your site to 9.5. Simply contact us and request the update and we'll do it at no charge.
Backup your site files/database.
Download your db_connect.php file.
Download /languages/english.php if you have made any changes to your langue file.
Download the logo.png file from the skin you're using i.e. /skin/bluestate/images/logo.png.
Download any images you might have replaced in your skin folder.
Upload version 9.5 and extract the file (Unzip).
Upload your db_connect.php file you downloaded.
Upload all the images and logo back into the skin images folder.
Delete browser cache to see new version.
Again, if you need help updating your site let us know. It only takes us about 5 minutes to update a site so it's no problem at all.