Adding live support to your dating site is a great way to connect with your members. This is not to be confused with the live video chat that's included in the dating software. In this post I'll discuss the two best free live support chat solutions out there and how to effectively use them.
Why Add Live Support Chat?
Being able to communicate with your members in real time is a great way to show transparency with your member base. They are going to have questions and having that little chat box in the lower right of the screen will show your members that you're there to help them.
Your customers are going to run into issues like they can't login, email address change and other dating site related issues. They might even have questions about how some features work or questions about billing and subscriptions so having a live support chat for them to connect with will speak volumes.
Can I Add Live Support Chat Free?
Yes, below I'll show you two free live support chat solutions and how you can add them to your dating site and start communicating with your members in real time.
ZenDesk Chat
The first support chat is called ZenDesk and their product is called ZenDesk Chat and you can find it here https://www.zendesk.com/chat/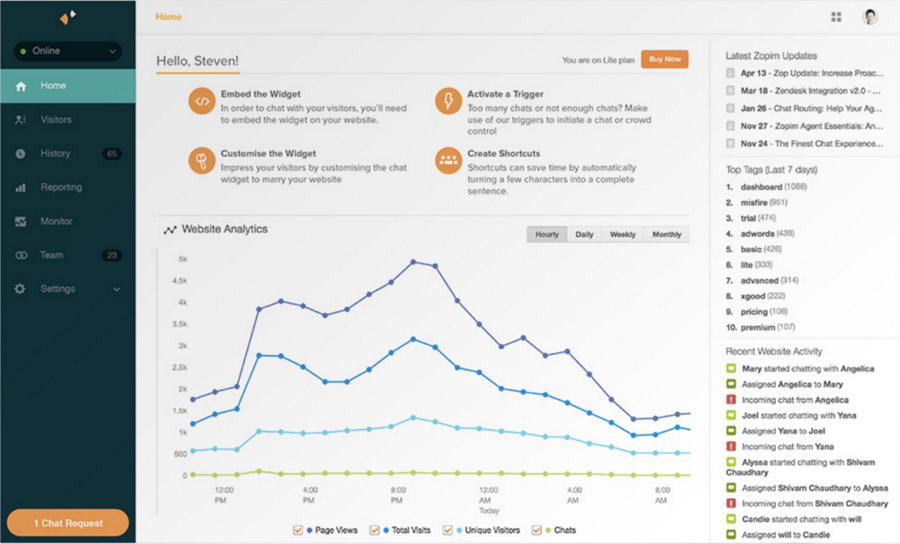 This free live support chat is the same live support chat you see here at idatemedia.com. If you look in the lower right of this screen you'll see the chat window. This allows customers like you to chat with us about our dating software solutions and works equally as well for dating site owners.
You can configure it to fit your needs and there's even a mobile app so that you can communicate with your members when you're on the go. You can setup alert sounds for when visitors hit your site as well as alert sounds for when someone chimes in to ask questions.
Along with the settings you can export transcripts via email so when a customer wants a record of the chat you can email them automatically once the chat session closes. This way you have an external record of the chat to later analyze.
You can even ban members from using it just in case someone is not being nice.
Tawk.to
Tawk.to is another free solution that lets you have live support chat with your customers. We have tested this out and while it's 100% free, we preferred using the ZenDesk product. It's free and has more bells and whistles than ZenDesk but we just prefer the ease of use with ZenDesk. You can get Tawk.to here: https://www.tawk.to/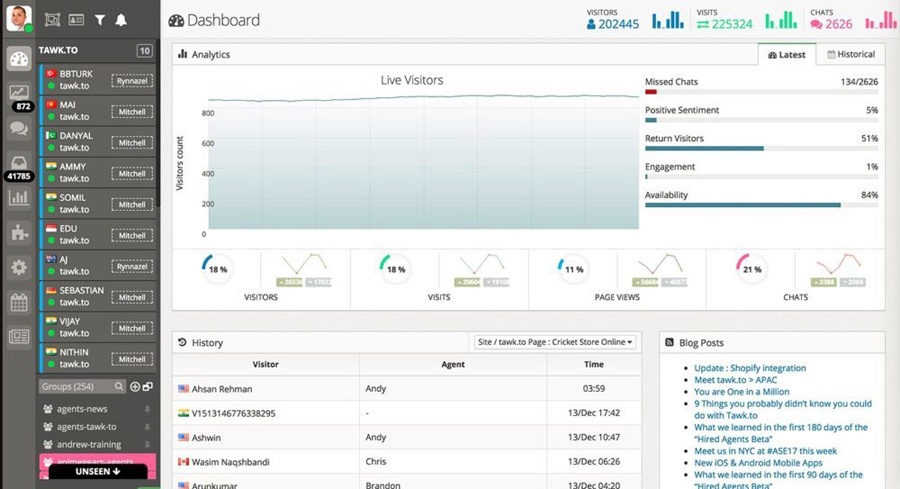 While it looks a lot different, it basically works the same way as ZenDesk where you can chat with your members, export chats and ban members.
There are a lot more features to each application so be sure to check their features for I've only touched on some of the basic features.
How To Install These Support Chat Apps
Installing any of these two support systems or any other is very easy to do. When you get one of these apps you'll also get some code that needs to be put in the footer of your site above closing body tag </body></html> which you can see in the below image.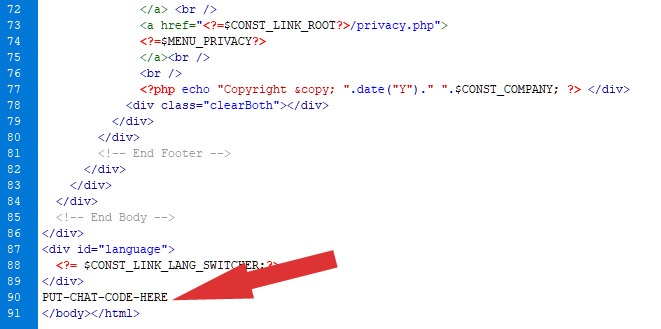 In the above image you see that you put the code right above the </body> tag. You'll want to edit the footer.php file in the skin folder that you are using. There are two footer.php files you'll want to edit. They are /skin/name/guest/footer.php and /skin/name/member/footer.php. This allows guests of your site and members of your site to see the chat box in the bottom right of your site. If you only want guest to see the chat box then don't put the code in the members footer.php and visa-versa.
If you need help installing this then we can install it for you at no cost. Just send us a support ticket and we'll take care of it for you.
In closing, adding a live support chat system to your dating site will give your members a bit more comfort in doing business with you. It's just another item in a list of things you can do to make your members more comfortable and more inclined to paying subscription fees and even speak good things about you online.
Whether you use ZenDesk or Tawk.To you'll be covered with a free live support chat solution that is easy and effective.