iDateMedia is pleased to announce the release of the Blusk dating software template. This new template design is a front page design and includes a popup login box as well as long form style web page. Check out the new Blusk Dating Demo.
This new dating software template design is pinkish in color and contains an updated style sheet that turns the internal buttons pink as well. If you wish to use a different color then a simple change to the stylesheet color will change it to the color code that you want.
Another feature of this new template is that there's a floating top menu. When you scroll down the top menu bar stays in place on the screen.
This new template design is included in version 10 of the iDateMedia dating software package. It's also included in all packages.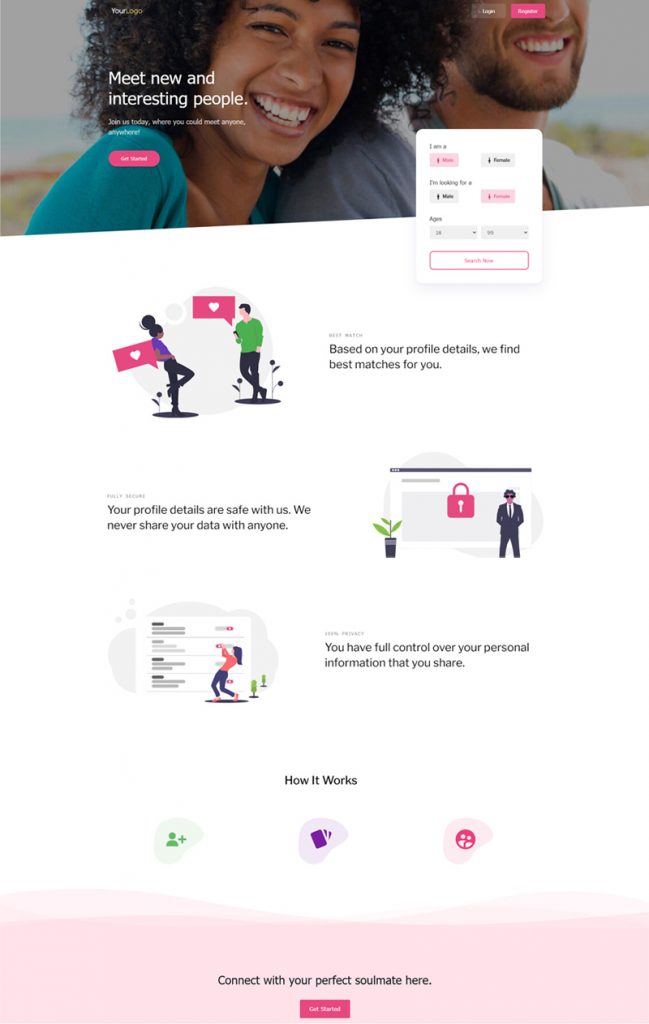 If you wish to install this new template design then follow the below steps or shoot us a support ticket and we'll install this new template into your skins folder for you.
Download blusk.zip from your my account area here at iDateMedia.com
Upload the blusk.zip file to your site via your cpanel/file manager area. Upload it to /home/public_html/skins/ folder
Unzip/Extract the blusk.zip file inside your skins folder.
Login to your dating site and go to your admin area and go to Settings, Set Parameters, General Options and select Blusk from the Skin Design.
Save settings.
That's it. Your new template is now activated. If you wish to change your logo to reflect your new colors then please do so and replace the logo in your /skins/images folder.
If you still see your old template when you go to your site simply remove your browser cookies and it will show your new template. All new visitors to your dating site will see your new template.
If you have any questions about this new dating template then please let us know.