Scammers and spammers have been around for just about as long as the world wide web has been around and they're not going to start giving up now. In this post I'll show you what scammers and spammers to watch out for as well as how to keep these schmucks off your dating site.
Is There A Difference Between Spammers And Scammers?
They are pretty much all the same. Out to get your money. We'll dive in below to scammers but spammers are those that promote other things on your dating site. You can watch out for those members profiles that contain email addresses and domain names so if you manually approve all content that goes into your dating site you can stop the spam from being sent out. If you find a spammer before they strike then block and delete their profile.
What Types Of Scammers Are There?
Ever since online dating became popular there have been those people that are only interested in getting money out of your members. These people are just low life scumbags out to get money from unsuspecting people. They don't care and the sad part is that most of them are outside the US in countries like Nigeria, Senegal, Ghana and a few others.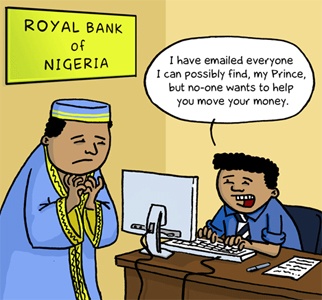 Here are a few types of dating scammers:
Nigerian 419
Phishing Scams
Inheritance Scams
Identity Theft Scams
The Pretender
Nigerian 419 Scams – Nigerian 419 scams usually involve someone overseas offering you a share in a large sum of money or a payment on the condition you help them transfer the money out of their country. These scams mostly originated in Nigeria, but now they can come from all over the world.
Phishing Scams – They are attempts by the scammer to trick you into giving your personal information including bank accounts, credit cards and passwords.
Identity Theft Scams – Identity theft is a certain type of internet fraud that involves using someone else's identity to steal money.
Inheritance Scams – These scams usually offer you the false promise of an inheritance to trick you into sending with your money or sharing your bank account or credit card details.
The Pretender – This is someone pretending to be someone else. You see a lot of scammers using military photos pretending to be in Iraq and need help. These are scams!
How To Keep Scammers Off My Dating Site?
The first thing you need to do is not allow people from specific countries to use your dating site. This is done by blocking them at the IP level. Each country basically has their own block of IP addresses so you can block countries like Nigeria, Senegal and Ghana from your dating site.
When someone comes onto your site there are some trigger words you can watch out for when approving profiles. Here's the short list:
God fearing
Foreign Bank
Bank Account
Lottery
Money
Help Me
Western Union
Money Gram
Those are just a few of the words you can watch for when approving your profiles.
At the very least manually approve all content so that you can catch these guys before they strike. Let the dating software block scammer rich countries.
What Other Steps Can I Take?
This infographic is provided by the FTC and can help you with scammers on your dating site. This is something you can reuse on your dating site. By posting stuff like this on your dating site you will show your members that you have their back because being able to protect your dating site members is essential in creating more trust with them.

You also want to watch out for specific types of images that your members will be posting. If you find members that are posting military photos then scrutinize that profile a bit more.
At the end of the day it's your responsibility as a dating site owner to help protect your dating site members. This is easy to do so don't let this deter you.  You just need to scrutinize your members coming in, making sure you approve all content and posting articles and easy to find information to show your members how to spot scammers, how to report them and how they should NEVER EVER EVER Give money to anyone they meet on your dating site.
The dating software that we provide allows you to block users who violate your site. While you can still block whole countries you can also block members as well.
Dating Site Scammer FAQ's
Are dating site scams still running?
Yes and they always will. As long as dating sites will be around so will the scammers.
Will scammers hit my niche market dating site?
Yes, niche dating sites are easy targets for scammers so make sure you're moderating all of your content.
What steps can I do to protect my members?
Post articles showing how to spot scammers. Manually approve all profiles and media. Stay aware of everything happening on your dating site.