For the last few months we have been working on the next release of the iDateMedia Dating Software application. This new version includes a brand new look and feel with some new features. I'll detail the new version below.
New User Look and Feel
This new version includes a revamped user interface that now includes support for changing the background color of your whole site. You can change the color of the whole site background via the admin area.
We have now changed the format of all the user areas to include a CSS box around all user objects. This allows the user features to pop and give a better presentation of the user data.
Featured Members Toolbar
Along the user area we have included a new Featured Members area. This can be toggled on and off via the admin area. This will show the opposite gender of the profile viewing.
New Admin Features
With the new version 11 comes a couple new features in the admin area. One of which is a new Member Admin. This new member admin area allows you to moderate every aspect of the user and their profile. Along with this new feature is a new function that allows you to make any profile a featured member profile which shows up on the users dashboard. This is a profile gender specific function that shows the opposite of what the profile user is registered. An example would be if you're logged in as a male then it will show female featured members and visa-versa.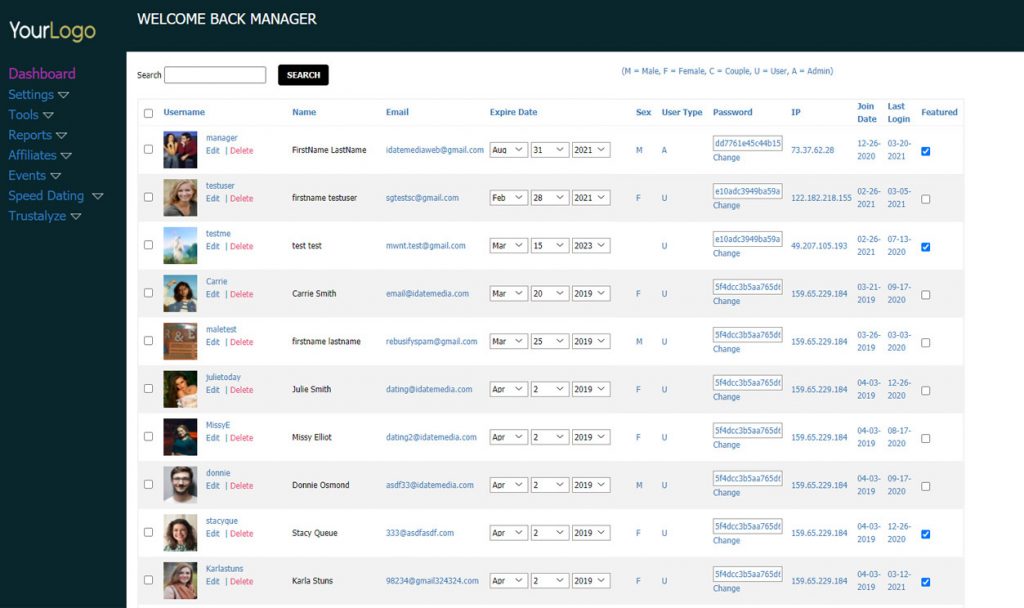 New color control has been added to the admin area. This allows for controlling all colors of the site including header, footer and background.
New Credits Payment Option
Included in this new version 11 are user credits. This allows the admin to enable users to purchase credits to be used for communication throughout the dating site. Admin sets the price and number of credits required. Users now have two options when upgrading their membership. They can select Credits or Subscriptions.
Stories/News Updated
The previous News and Stories function has received a new look and feel. Gone is the outdated look of these functions and replaced with a blog style look and feel.
Enhanced Advanced Search
The whole search function has been completely revamped and now includes instant search and instant scroll down. It also includes new roll-over effects to show quick function icons like Flirting, Gifts, Friends and Emailing.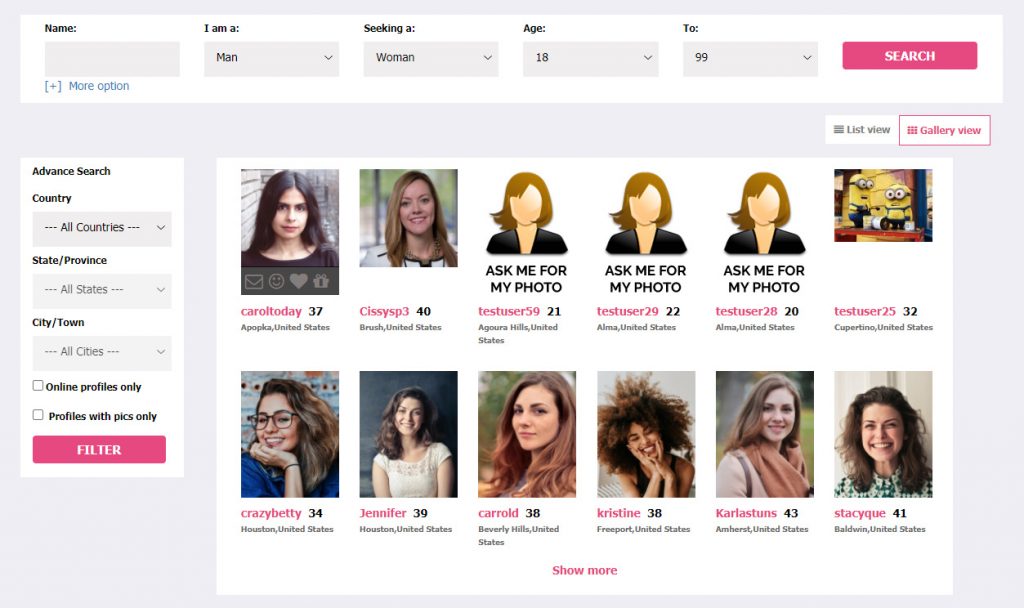 Along with the above updated function we have now restructured the advanced aspect of the search which allows users to toggle the advanced search function to refine their search criteria.
Other features include updated Member Upgrade page, Profile View, Guest Header, Member Header and Index page and the responsive aspect has been modified to accommodate this new layout structure. Plus a few surprises.
If you want to see version 11 in action head over to our Dating Software Demo page and check out the version 11 demo.