With the upcoming Superbowl game this Sunday between the 49ers and the Chiefs (Go Chiefs), a certain super niche, not to be confused with Superbowl, can and should be created.
What Is A Football Fan Dating Site?
Whether you're a New Orleans Saints fan or a Dallas Cowboys fan one thing is true, there are not a lot of football lovers style dating sites out there and the few that I did find don't have a specific football team that was their specific niche. That's where this football fan dating site idea will come into play.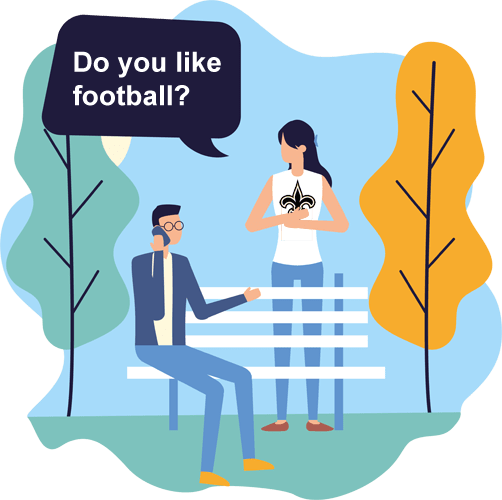 If you're looking to start a niche market dating site and need an idea then here's one for you. The football fan dating site. Of course you have to be into football and live in a city where your football team plays. As someone who's lived in New Orleans I can tell you that I'm a Saints fan but if you live in New Orleans and you're looking for dating software to start a dating site then the Saints fan dating site idea might just be what you need.
Now of course it doesn't have to be the Saints. I'm sure Drew is not thinking about what team you support but hey, there's the idea.
What if you're a Jets fan? Or a Giants fan or possibly a Raiders fan? Well maybe the Raiders is not a good idea since they're moving to Vegas but you get the picture. You can start a dating site geared towards other single fans of any football team. Whatever your team is you can start a football dating site around it.
How Easy Is It To Start A Football Fan Dating Site?
The first thing is you have to be a fan of a specific team. The second thing is to go look out there and see what exists. If there's already one then look to see how it's being promoted. Are they on Facebook? Are they promoting on Twitter? How many members do they have? Just look at the overall marketing they're doing and see if you can do it better. Maybe they aren't doing it. We have customers that see a niche is out there but not being marketed the right way and go after it. You don't have to design a new mousetrap, just make it better. So the saying goes…
As with any dating site niche, the hosting (Which we provide free), the site, the files will all be pretty much the same as starting any other niche. What changes are the profiles, images, text and marketing being done as well as your drive behind it. So in a sense, starting this type of dating site is just as easy as starting any other type of dating site.
Checkout the best dating software for 2020.
How To Market A Football Fan Dating Site
Well you obviously want to target single fans of a particular football team so what you want to make sure you do is create a Facebook page, Twitter page, LinkedIn page and an Instagram page. There are more you can create like Mix, Pinterest and others but focus on those first 4. Get those pages/accounts set up and start posting info to them. Always link back to your football dating site so that you get link credit with Google.
Since you're a super niche dating site you'll want to get as much exposure as you can and once you get your dating site how you want it, with the right images and text then start getting friends and family to create profiles. Once you have a few profiles contact all the news outlets in your area and let them know about your site. You want to create as much buzz around your dating site as possible.
Be sure to check out our dating site marketing tips for 2020.
Be sure the photos you're adding to your new football themed dating site are related to your team. You want to promote this as much as possible and everywhere you go. Get some free business cards from VistaPrint and pass them out if you go to games. Attack it!
Can I Make Money With A Football Fan Dating Site?
As with any type of dating site, yes, you can make money from it but you need to do a few things in order to get there. Here's a short list of things to do with your new dating site in order to hopefully increase revenue to it.
Keep free until you get a good profile base of members.
Monetize your free site with ads via AdSense or other ad media.
Scrutinize all profiles and content (Manually Approve).
Use free social media to market dating site.
Write football/dating related blogs/articles on and off your site.
Now the last thing you'll want to NOT do is give up. Your team won't be giving up when it comes to the playoffs or the Superbowl so don't give up. Dating site owners make the mistake of giving up a few months down the road and they're missing out. Those that treat it like a business and market it and don't give up reap the rewards. If you started a dating site today just think where you will be in 1 years time. You'll be kicking yourself that you didn't start it the previous year so do it!
Be sure to check out our dating software demo.